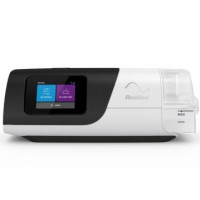 Many people need to use a CPAP device every night to get the air they need while they sleep. CPAP devices are used to treat symptoms associated with sleep apnea. At 1st America HME, we offer a wide range of PAP devices to match the unique needs of our patients. These PAP devices include:
CPAP Devices - These devices provide constant pressure at the prescribed pressure setting.
APAP Devices - These devices automatically adjust pressure to the user
BiPAP Devices - These devices have two levels of pressure, a higher level when you inhale and a lower level when you exhale
Below, you'll find categories for all the CPAP devices we offer, whether you need them at home or while you're traveling. If you have any questions, please contact us.
Looking for the ResMed AirSense 11? We may be able to help, call us at (229) 242-3433.
CPAP DevicesTravel CPAPAuto CPAP Devices